Author, Editor to Speak on Political Climate, National Elections and Economic Issues
For Immediate Release
Contact: Ted Hearn
(202) 713-0826
thearn@acaconnects.org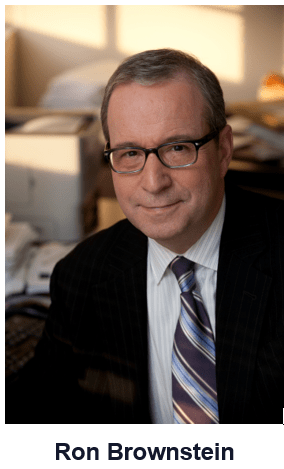 PITTSBURGH, January 23, 2020 — Ron Brownstein, Senior Editor, The Atlantic, Contributing Editor, National Journal, and Senior Political Analyst for CNN, has been named a keynote speaker for ACA Connects Summit 2020, which will be held March 17-20 in Washington D.C.
"We are honored to welcome Ron Brownstein to the ACA Connects Summit. As an experienced political observer, Ron Brownstein will share insights about this election year that will provide a valuable overview for our members. Business and politics intersect to create a dramatic impact on our economy. ACA Connects members are at the center of this intersection as Main Street businesses that are the foundation of their communities. We look forward to hearing Mr. Brownstein's observations on the national campaigns and the impact on statewide elections," ACA Connects President and CEO Matthew M. Polka said.
Brownstein is scheduled to speak Wednesday, March 18, in the afternoon, addressing an audience of communications professionals who are overseeing the deployment of modern broadband networks in some of the most rural areas of the country.
"ACA Connects members understand that any business decision – whether investment in new broadband networks, or adding services for local businesses — is made through the prism of policy initiatives. Ron Brownstein's experience as a chronicler of the political process provides much needed perspective," Polka said.  
In his role as journalist, historian, and a shrewd political observer, Brownstein has broad experience to help explain the complexities of American politics. As a senior editor for The Atlantic, a contributing editor for National Journal, and a senior political analyst for CNN, he produces analysis on politics, policy, the electorate, media, healthcare, and the range of issues informed by his strong sense of American political and national history.
Ron Brownstein is the author or editor of six books, including "The Power and The Glitter: The Hollywood-Washington Connection," and "Storming the Gates: Protest Politics and the Republican Revival." His previous book, "Reagan's Ruling Class: Portraits of the President's Top 100 Officials," was a Washington Post best-seller for five weeks. He was editor and co-author of "Selecting a President and Who's Poisoning America," and his sixth book, "The Second Civil War: How Extreme Partisanship Has Paralyzed Washington and Polarized America," was named one of the "10 books to curl up with" by the New York Times.
The ACA Connects Summit will be held at the Grand Hyatt in Washington, D.C. #Summit2020 will be the official social media hashtag for the event.
Registration information is available at https://www.acasummit.org/
About ACA Connects: America's Communications Association
– Based in Pittsburgh, ACA Connects is a trade organization representing more than 700 smaller and medium-sized, independent companies that provide broadband, phone and video services to nearly 8 million customers primarily located in rural and smaller suburban markets across America. Through active participation in the regulatory and legislative process in Washington, D.C., ACA Connects' members work together to advance the interests of their customers and ensure the future competitiveness and viability of their businesses. For more information, visit:
http://www.ACAConnects.org