PITTSBURGH & WAPAKONETA, OH., Sept. 1, 2020 – Com Net, Inc., Chief Executive Officer Rob Shema on Aug. 27 received ACA Connects' "Servant Leader" award presented by ACA Connects President and CEO Matthew M. Polka to recognize Shema's 15 years of service to ACA Connects as a senior executive, trusted source to hundreds of ACA Connects Members, and devoted mentor to work colleagues in Pittsburgh, Pa., and Washington, D.C.
"It was an honor to present to our ACA Connects friend and colleague Rob Shema this award from our Board, Members and Team thanking him for being the true servant and leader he is to all. Rob's contributions to ACA Connects will be remembered every day as we continue to serve our Members, just like Rob did," Polka said.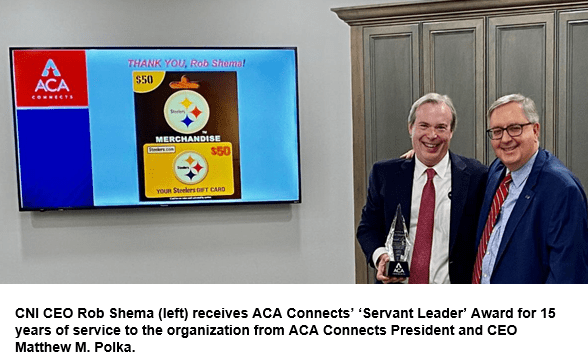 Polka presented the award during a visit to CNI's Board of Directors, which was meeting in the office of ACA Connects Member New Knoxville Telephone Co. Joining Polka was Shema's ACA Connects successor, John M. Higginbotham.
Shema announced his departure from ACA Connects in February and joined CNI in March.
Shema was ACA Connects EVP of Member Services & Finance/Chief of Staff, developing solid relationships with ACA Connects Members and helping ACAC Staff initiate and complete critical programs vital to the effectiveness and growth of the organization. He has worked directly with ACAC's Board of Directors and Executive Committees to ensure that independent video and broadband providers have a voice and a vote in the federal policy debates.
Shema was diligent in working directly with both new and well-known firms in the complex technology space, establishing strong ties and partnerships with exhibitors who showcased at ACA Connects' Annual Summit in Washington, D.C.
ACA Connects intended to honor Shema at the 2020 Summit in Washington, D.C., in March; unfortunately, the coronavirus crisis prevented this event from taking place.
"True leadership requires service to others first and foremost, and Rob exemplified this every day," Polka said. "Rob's legacy will live on at ACA Connects."
About Com Net, Inc.: CNI is a Wapakoneta,Ohio-based company that was established in 1993 through a collaboration of independent local exchange companies (ILECs) across Ohio. Today, CNI is owned by 21 ILECs and one electrical cooperative. CNI's ability to provide the highest quality communication offering to local providers is found in the company's commitment to operate its network and service with integrity. For more information, visit:  https://www.cniteam.com/
About ACA Connects: America's Communications Association – Based in Pittsburgh, ACA Connects is a trade organization representing more than 700 smaller and medium-sized, independent companies that provide broadband, phone and video services to nearly 8 million customers primarily located in rural and smaller suburban markets across America. Through active participation in the regulatory and legislative process in Washington, D.C., ACA Connects' members work together to advance the interests of their customers and ensure the future competitiveness and viability of their businesses. For more information, visit: http://www.ACAConnects.org