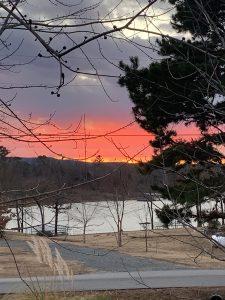 Time To Rest, Reflect And Restore
By Crystal Kemp
Happy New Year, friends.
Last week, I heard writer Sara Sterley (sarabytheseason.com) discuss living life by the season. She says winter is the season where we rest, reflect and restore. I've decided that is a great approach for the COVID-19 winter ahead of us. Here in Arkansas, we have almost daily records of new COVID cases and hospitalizations.
We've been looking forward to 2021 for months – hoping to leave 2020 behind, set goals and move forward. It seems that 2021 may have its own troubles and maybe if we determined to spend winter as Sterley suggests — a time to rest, reflect and restore, the moving forward will happen on its own.
This fall, we watched the trees as they let go of their leaves. Now is their season for rest. What if we follow their example and we also spend this season focused on letting go of the leaves of 2020 and let winter be our time for rest, reflection and restoration?
My husband loves to ride his motorcycle. He says one of the joys of riding in the winter is that he can take in more scenery because the trees are bare. Maybe that can be true for us this winter. Maybe 2020 has helped us to see some things more clearly. And we can use these next few months – while waiting for Spring – to rest, reflect and restore.
Sterley's seasonal living shows Spring as the time for awakening, clarity and planting. Let's do this winter thing well so we are ready when COVID-19 winter is over and spring arrives!
The work you do matters and I'm thankful for each of you.
Best wishes for 2021!
Crystal Kemp is Chief Marketing Officer at Conway Corp. in Conway, Ark.