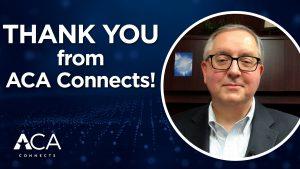 Your Finest Hour
By Matthew M. Polka
President and CEO of ACA Connects
It was about one year ago when I was sitting at my desk wishing you and all of our ACA Connects Members well as most of us headed home for what was a very uncertain future because of the COVID-19 pandemic.
We were all in uncharted waters and, frankly, I know we were scared.
But at the same time, as scores and scores of our customers went home to work, learn, see their doctors and connect through our broadband Internet networks, we knew we had a job to do to keep everyone connected.
And you did your jobs in amazing ways!
Your networks met the need with capacity to spare, and you found innovative ways to serve the four corners of your communities.
On behalf of all of us at ACA Connects, we are so proud of you and thank you, even though we both know the job is not done.
There are more homes, schools, students, businesses, hospitals and other places to connect, and we know how committed you are to connect every single person in your communities.
As I said to you a year ago, we are here for you every step of the way, and you can continue to rely on our team at ACA Connects to provide the information you need to know, education on plans and programs to expand your footprints, and vital communications on the new Congress and the Federal Communications Commission (FCC).
We have learned a lot at ACA Connects, and I hope you have seen one of the many new ways we connect with you, our Members, every day.
We'll never stop representing you, and we'll never stop serving you.
With spring officially around the corner, there is a growing optimism in our country as we overcome the pandemic, reflect on those that were lost, and try to be better people to help bring healing wherever we are able.
Let us know how we at ACA Connects can help you.
When you're up for a visit from us, let us know, because we will be happy to get back on the road to see the great things you are doing in your hometowns.
If you want to connect virtually until you're ready for an in-person visit, we can do that too.
Let's just stay connected.
Experiencing perhaps the most difficult year any one of us has ever endured, you, our ACA Connects Members, have written one of the most honorable chapters of the pandemic because of your service to your communities and to others. The past year was, indeed, your finest hour.
Our country owes you a debt of gratitude that I know you see in the faces of the people you connect every day.
And from all of us at ACA Connects, we simply say…THANK YOU.
---
About ACA Connects: America's Communications Association – Based in Pittsburgh, ACA Connects is a trade organization representing more than 700 smaller and medium-sized, independent companies that provide broadband, phone and video services to nearly 8 million customers primarily located in rural and smaller suburban markets across America. Through active participation in the regulatory and legislative process in Washington, D.C., ACA Connects' members work together to advance the interests of their customers and ensure the future competitiveness and viability of their businesses. For more information, visit: http://www.ACAConnects.org