Minneapolis, Minn., Aug. 2, 2023 – The 18th Independent Show, a major event on the American telecommunications policy calendar, came to a successful close today after a battery of insightful discussions on the key issues affecting ACA Connects Members. Held at the Minneapolis Convention Center July 30-Aug. 2 and co-hosted by ACA Connects and National Content & Technology Cooperative (NCTC), #TIS23 brought together industry leaders, policymakers, and stakeholders to address challenges and offer suggestions on building a successful future.
"The 18th Independent Show was a tremendous platform to discuss critical issues that ACA Connects Members care about the most. Over the next few years, our country can count on ACA Connects Members to play a leading role in closing the digital divide and prioritizing digital inclusion for all Americans," ACA Connects President and CEO Grant Spellmeyer said.
ACA Connects Chairman Patricia Jo Boyers added, "This year's Independent Show here in Minneapolis showcased our Members' commitment to addressing critical issues, seeking solutions, and driving positive change."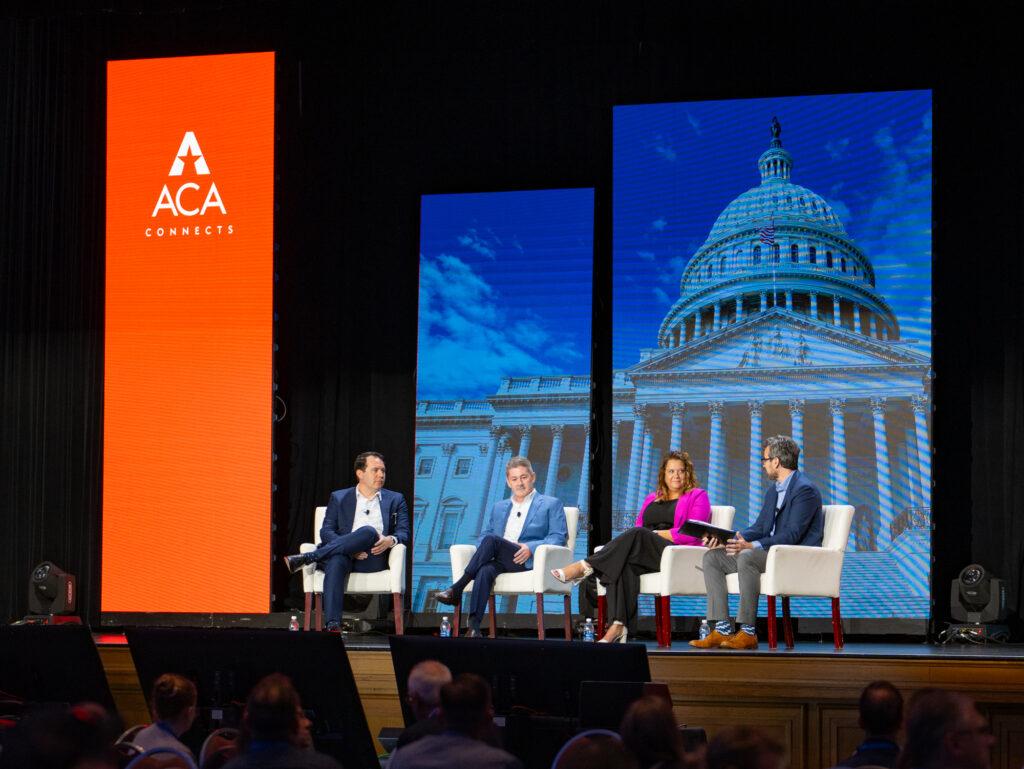 Mrs. Boyers, ACA Connects Chairman since 2019, is President/CEO & Co-Founder of BOYCOM Vision in Poplar Bluff, Mo. The video and broadband provider serves about 5,100 customers.
Save the date! The 2024 Independent Show is scheduled for Nashville, Tenn., August 19-22.
Several key policy issues took center stage at this year's show, including:
Broadband Deployment: The conference shed light on the $42.45 billion Broadband Equity, Access, and Deployment (BEAD) Program that aims to bridge the digital divide and provide equitable access to high-speed Internet services for unserved and underserved communities. ACA Connects leaders vowed to ensure that BEAD money is not used to overbuild existing broadband infrastructure funded with private capital. This morning, ACA Connects Chief Regulatory Counsel Brian Hurley moderated a BEAD Program panel discussion that included insights from Phil Murphy, Senior Advisor, Office of the Assistant Secretary, National Telecommunications and Information Administration (NTIA); Bree Maki, Minnesota's Executive Director of the Office of Broadband Development; and Patrick Haggerty, Nebraska's Broadband Director.
Retransmission Consent: The attendees engaged in lively discussions regarding the challenges posed by retransmission consent negotiations between corporate TV station owners and small, independent video providers. The show's focus on "retrans" came as ACA Connects Members prepare for a new round of negotiations with broadcasters in the fall.
Affordable Connectivity Program (ACP): This program – which has enrolled more than 17 million households, according to Federal Communications Commission data – has been an innovative strategy to make broadband services more affordable for low-income households. ACP funding is expected to expire next year without action by Congress.
Permitting: Broadband providers require permits to access poles, rights-of-way, and related infrastructure. Concerns were raised and analyzed about the success of the BEAD Program if broadband is hobbled by burdensome and costly permitting applications and other regulatory red tape.
FCC Democratic Majority: The FCC will likely be fully seated with five voting Commissioners by year end. ACA Connects is expecting the FCC to pursue an aggressive regulatory agenda, including the consideration of heavy-handed rules applied to broadband ISPs.
ACA Connects represents a broad range of independent broadband providers, including cable, fiber, and wireless operators. The association serves as a strong voice for these providers, advocating for policies that promote competition, innovation, and investment in broadband infrastructure. ACA Connects also provides its members with networking opportunities, industry insights, and resources to navigate regulatory challenges and technological advancements.
---
About ACA Connects: America's Communications Association – Based in Pittsburgh, ACA Connects is a trade organization representing more than 500 smaller and medium-sized, independent companies that provide broadband, video, and phone services covering 23 million customers, 6 million of which are located in rural and smaller suburban markets across America. Through active participation in the regulatory and legislative process in Washington, D.C., ACA Connects Members work together to advance the interests of their customers and ensure the future competitiveness and viability of their businesses.