For Immediate Release
Contact: Ted Hearn
(202) 713-0826
thearn@acaconnects.org
PITTSBURGH, Feb. 13, 2020 — Federal Communications Commissioner Jessica Rosenworcel will be a keynote speaker at the ACA Connects 27th Annual Summit in Washington, D.C., on March 18, ACA Connects President and CEO Matthew M. Polka announced today.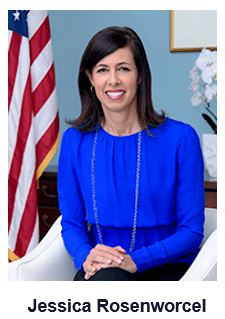 "It is our distinct honor to welcome Commissioner Rosenworcel to address this year's D.C. Summit. Commissioner Rosenworcel's expertise and insights into the FCC's current policy agenda are welcome and important additions to our program," Polka said.
Named as one of POLITICO's 50 Politicos to Watch and profiled by InStyle Magazine in a series celebrating "women who show up, speak up and get things done," Commissioner Rosenworcel brings more than two decades of communications policy experience and public service to the FCC.
Commissioner Rosenworcel, who is the most senior Democratic Commissioner at the agency, is a strong advocate for, and defender of, consumers and the public in general. During her Summit appearance, Commissioner Rosenworcel will engage in a one-on-one interview with ACA Connects Chairman Patricia Jo Boyers, who is President of BOYCOM Vision, a video and broadband provider with 3,000 customers in Poplar Bluff, Mo.
Prior to joining the agency, Commissioner Rosenworcel served as Senior Communications Counsel for the U.S. Senate Commerce Committee, under the leadership of Sen. John D. Rockefeller IV and Sen. Daniel Inouye. Before entering public service, Commissioner Rosenworcel practiced communications law in Washington, D.C.
Commissioner Rosenworcel is a leader in spectrum policy, developing new ways to support wireless services from Wi-Fi to video and the Internet of Things. She also is responsible for developing policies to help expand the reach of broadband to schools, libraries, hospitals, and households across the country.
The ACA Connects Summit will be held March 17-19 at the Grand Hyatt in Washington, D.C. #Summit2020 will be the official social media hashtag for the event. Registration information is available at https://www.acasummit.org/
The ACA Connects Summit is a special event where independent video and broadband companies serving hometown America connect with the leading lawmakers and regulators as well as media representatives on the communications policy beat in Washington, D.C.
ACA Connects' more than 700 members play a unique role in providing best-in-class communications services to millions of consumers, many living and working in rural areas of the country. Created in the early 1990s, the ACA Connects Summit gives independent providers a vehicle for framing the diverse and complex issues in their own words during dozens of meetings with lawmakers and staff on Capitol Hill and with regulators at the FCC.
About ACA Connects: America's Communications Association
– Based in Pittsburgh, ACA Connects is a trade organization representing more than 700 smaller and medium-sized, independent companies that provide broadband, phone and video services to nearly 8 million customers primarily located in rural and smaller suburban markets across America. Through active participation in the regulatory and legislative process in Washington, D.C., ACA Connects' members work together to advance the interests of their customers and ensure the future competitiveness and viability of their businesses. For more information, visit:
http://www.ACAConnects.org