For Immediate Release
Contact: Ted Hearn
(202) 713-0826
thearn@acaconnects.org
PITTSBURGH, Feb 14, 2020 — John M. Higginbotham, a highly respected broadband industry leader with extensive knowledge about independent video and broadband providers, has been named Executive Vice President of Membership and Finance and Chief of Staff of ACA Connects, ACA Connects President and CEO Matthew M. Polka announced today.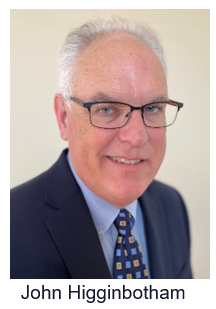 Higginbotham, who will report to Polka and be based in the Pittsburgh, Pa., headquarters of ACA Connects, will begin immediately. He is replacing former EVP Robert Shema, who is leaving ACA Connects on March 23 to join Com Net, Inc. (CNI), in Wapakoneta, Ohio, as CEO.
"We are honored to have John join the ACA Connects staff in this important leadership, membership and service position. His years of experience in operations, technology deployment, advocacy, and member relations brings an experienced voice to ACA Connects. He combines his broadband operations expertise with policy insights gained from years of experience in the industry. John understands that our agenda is a complex one, and his knowledge and expertise are welcome additions to our team," Polka said.
Patricia Jo Boyers — who is ACA Connects Chairman of the Board of Directors and President of BOYCOM Vision, a small rural broadband company based in Poplar Bluff, Mo. — welcomed Higginbotham to the ACA Connects team.
"John has been a strategic leader who understands the huge dividends for consumers created by broadband deployment in rural communities. Our members have long followed John's observations on broadband and investments, and how best to leverage those for both their customers and communities," Mrs. Boyers said. "At ACA Connects, we understand that broadband transforms communities, and John's hands-on insights are valued additions to our efforts."
Most recently, Higginbotham was Assistant General Manager of Telecommunications from 2014 to 2017 at the Frankfort Plant Board in Kentucky, a municipal utility created to provide electric, water and cable/telecommunications services to more than 18,000 residents in Franklin, Woodford and Shelby counties. Higginbotham implemented strategies in the delivery of residential and business class voice, video, Internet and security services. His responsibilities included overseeing 70 department employees, and served as representative to federal, state and local government relations communities.
During his 23 years at the Frankfort Plant Board, Higginbotham was affiliated with a number of communications industry organizations, including the National Cable Television Cooperative (NCTC), where he was a director from 2011 to 2017.
Higginbotham will transition in his new role working with Shema, who will remain with ACA Connects until March 23, when he assumes his new role at CNI.
"I am truly privileged and humbled to have this opportunity at ACA Connects, following Rob who has done so much for our Members and our association," Higginbotham said. "Our ACA Connects team is so committed, and I look forward to being a part of this team and serving our Members in every way that I can."
About ACA Connects: America's Communications Association – Based in Pittsburgh, ACA Connects is a trade organization representing more than 700 smaller and medium-sized, independent companies that provide broadband, phone and video services to nearly 8 million customers primarily located in rural and smaller suburban markets across America. Through active participation in the regulatory and legislative process in Washington, D.C., ACA Connects' members work together to advance the interests of their customers and ensure the future competitiveness and viability of their businesses. For more information, visit: https://acaconnects.org