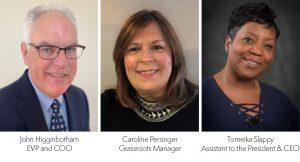 John Higginbotham to Become EVP and COO
PITTSBURGH, March 1, 2021 – ACA Connects President and CEO Matthew M. Polka announced the following staff changes:
John Higginbotham, ACAC's Executive Vice President of Membership and Finance, has been promoted to ACAC's EVP and Chief Operating Officer. Caroline Persinger has been promoted to Manager of Grassroots. And Tomeika Slappy has been promoted to ACAC's Assistant to the President and CEO.
"The changes we are making at ACAC will allow our association to be even stronger for our Members in key service areas, building upon the strengths John, Caroline and Tomeika already bring to our team," said Polka.
Higginbotham, who joined ACAC in February 2020, handles all membership and finance matters for the association. Going forward, Higginbotham will be responsible for all operational and staff matters as Polka focuses more on association relationships with its Members, industry partners and policymakers in Washington.
"John was such a big help to our team in 2020 even though he joined us right as the pandemic began to affect our Members and our association," Polka said. "He jumped right in keeping us grounded as we worked through the pandemic to help our Members. He is a true leader with vast industry and management experience who will help ACAC meet the needs of today and our future."
Prior to joining ACAC, Higginbotham served for more than 20 years as Assistant General Manager of Telecommunications at the Frankfort Plant Board in Kentucky, one of ACAC's Members.
"In a very short time, John has become a valued colleague to our Members and team alike, with many new initiatives led by John to come in 2021," Polka added.
Caroline Persinger once again becomes ACAC's Grassroots Manager, working with Members on building their relationships with their policymakers in Washington, D.C., developing good grassroots practices and helping to expand ACAC's political action arm at ACA PAC.
"Caroline has held many roles with us before, including grassroots, and in a phrase, she is 'CAN DO,'" said Polka. "She created the grassroots role when she was with us before she and her family moved to Florida for a time, and we are happy to have her back in this most critical role for our Members."
Tomeika Slappy has served as ACAC's Executive Assistant for several years, but in the past year has taken on more responsibilities including not only executive management, meeting organization and organizational efficiencies, but also membership communications and logistics and executive and industry relationships.
"Tomeika is not only indispensable to me, but also to our team and Members," said Polka. "As our association continues to grow from 2020, respond to our Members' issues and concerns, and serve in new ways, Tomeika will be key to keeping us connected to our Members and partners and helping us to efficiently move forward together."
Polka continued, "Our entire ACAC team is focused this year on coming out of 2020 stronger than ever for our Members in the areas of advocacy, communications and education, and I thank John, Caroline and Tomeika, and ALL of our terrific team for their Member service and leadership. It's onward and upward for our Members in the new year!"
About ACA Connects: America's Communications Association – Based in Pittsburgh, ACA Connects is a trade organization representing more than 700 smaller and medium-sized, independent companies that provide broadband, phone and video services to nearly 8 million customers primarily located in rural and smaller suburban markets across America. Through active participation in the regulatory and legislative process in Washington, D.C., ACA Connects' members work together to advance the interests of their customers and ensure the future competitiveness and viability of their businesses. For more information, visit: http://www.ACAConnects.org