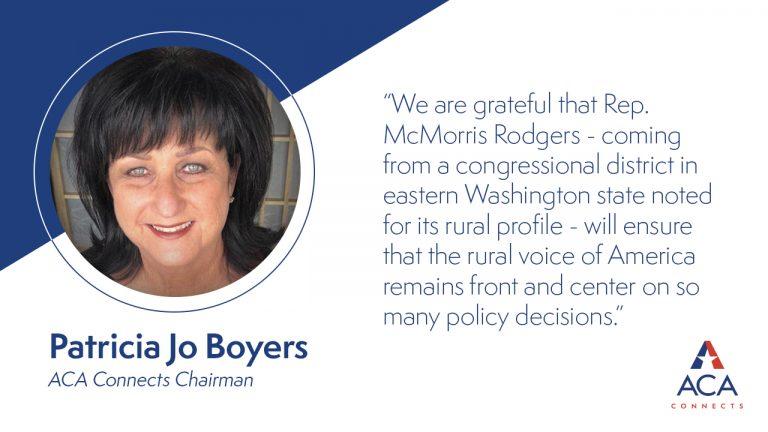 PITTSBURGH, Dec. 2, 2020 – ACA Connects Chairman Patricia Jo Boyers, who is President of BOYCOM Vision in Poplar Bluff, Mo., issued the following statement on today's election of Rep. Cathy McMorris Rodgers (R-Wash.) as the new Republican Leader of the House Energy and Commerce Committee, beginning in the 117
th
Congress:
"ACA Connects congratulates Rep. Cathy McMorris Rodgers on her historic election as the first woman to become the Republican Leader of the House Energy and Commerce Committee. This committee oversees a vast array of sectors of vital importance to our nation. We appreciate all her time and effort on many topics of impact and importance to our ACA Connects membership and look forward to further work on the issues of importance to the video and broadband industry.
"We have always respected her ability to work with everyone on the tough issues the committee must face. We have also appreciated her willingness to look out for small businesses and the rural communities that so many of our members serve.
"Importantly, we are grateful that Rep. McMorris Rodgers – coming from a congressional district in eastern Washington state noted for its rural profile – will ensure that the rural voice of America remains front and center on so many policy decisions.
"ACA Connects looks forward to working with Rep. McMorris Rodgers, her Republican colleagues and the panel's Democratic leadership on developing policies in key areas, especially regarding the deployment and affordability of communications services."
About ACA Connects: America's Communications Association – Based in Pittsburgh, ACA Connects is a trade organization representing more than 700 smaller and medium-sized, independent companies that provide broadband, phone and video services to nearly 8 million customers primarily located in rural and smaller suburban markets across America. Through active participation in the regulatory and legislative process in Washington, D.C., ACA Connects' members work together to advance the interests of their customers and ensure the future competitiveness and viability of their businesses.