By Matthew M. Polka
President and CEO, ACA Connects
We live in a connected world and there's no turning back. According to a USC Annenberg study in 2017, Americans on average spend 24 hour a week online, with 18 of those online hours taking place in the home. With Internet access serving as the vital link between consumers and so many critical functions – including education, commerce, personal communications and entertainment –ACA Connects members understand that they play a central role in the dynamic world of modern communications. They are thus committed to making the necessary investments to ensure that their networks are resilient and their customers are rarely inconvenienced by extended service interruptions.
Many ACA Connects members largely operate in rural parts of the country, including coastal regions susceptible to severe weather events, such as storm flooding, hurricanes and cyclones. ACA Connects members take seriously their responsibility to help protect life and property, and they are getting ready for hurricane season and other weather events. The National Weather Service deserves credit for the launch of Hurricane Preparedness Week (May 5-11), which reminds residents in storm-prone areas of the need to prepare now, well ahead of the life-threatening consequences that can attend hurricane season on our shores.
To maximize public safety, everyone must chip in, including ACA Connects members. As a trade association with hundreds of members all across the country, ACA Connects will do its part by keeping members informed and educated on measures to prepare for disasters. ACA Connects is also active on social media platforms like Facebook, Twitter and LinkedIn to ensure our messaging travels as far as possible.
ACA Connects members maintain close ties to those they serve. As respected members in their communities, ACA Connects members have strong local relationships, and these deep roots form a foundation of trust when ACA Connects members are working with others in their communities to respond to crises.
The people who run smaller ISPs and cable systems typically live within the communities they serve. That means their customers are friends, family neighbors, not just names next to an account number on a monthly bill. These special relationships give ACA Connects members an added incentive to deploy the most resilient communications services possible and restore service as quickly as possible in the aftermath of a major storm.
ACA Connects members take charge when disaster strikes. They devote considerable amounts of time, money and countless staff hours to rebuild damaged facilities and get service back online as quickly as possible. After Hurricane Maria – a devastating Category 5 hurricane in September 2017 — ACA Connects member Liberty Puerto Rico invested more than $130 million to rebuild its network. Federal Communications Commission Chairman Ajit Pai himself witnessed first-hand the "incredible efforts" of Liberty's crews working around the clock to restore service.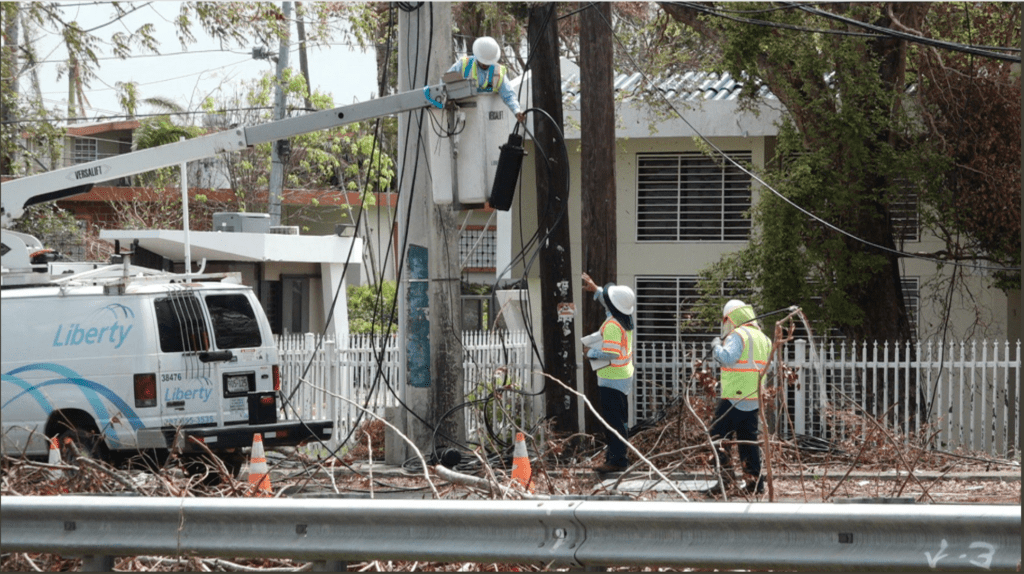 Another ACA Connects member reported that after Cat 5 Hurricane Michael in 2018, the company spent money to replace damaged fiber lines and make other repairs at a level that exceeded its annual budget for new construction projects.
ACA Connects members must be nimble and flexible in responding to weather crises. Finding the investment dollars can be particularly challenging because smaller providers have difficulty budgeting in advance. To deal with a crisis, they end up consuming funds that they might have put to other valuable uses.
Not surprisingly, ACA Connects members maintain high standards of service reliability for strong competitive reasons. ACA Connects members' risk of losing customers to competitors — as well as their interest in minimizing losses of customer revenue — create strong incentives to bring service back online for customers as quickly as possible after disaster strikes.
By way of example, ACA Connects documented in recent FCC filings its members' experiences competing in the mobile wireless backhaul market. Wireless carriers are highly desirable enterprise customers, and ACA Connects members can attract their business only by providing service that meets strict specifications.
ACA Connects explained in the filing that wireless backhaul services are typically provided under contracts that spell out resiliency requirements. They also require backhaul providers to keep wireless carriers apprised of progress in rectifying outages. ACA Connects members readily provide service that meets these standards in order to stay competitive in this market.
Over the years, ACA Connects members have developed playbooks that outline in detail the steps they take to prepare for and respond to a disaster—such as prepositioning fuel and other critical assets, and making accommodations for response personnel. With Hurricane Season just around the corner, ACA Connects members are taking the opportunity to review and refine their playbooks. Earlier this week, ACA Connects held a webinar for its members on best practices for network resiliency and disaster recovery, which included a presentation from an ACA Connects member who lived through and learned from Hurricane Michael last October.
In the words of one ACA Connects member, "small size creates discipline." Smaller operators don't have time to waste or resources to spare in the midst of an emergency. As a matter of business necessity, they must know what to do when the time comes. Accordingly, disaster preparedness is a top priority for ACA Connects members, and ACA Connects is proud to do its part to assist members with this critical task.