Leadership, Integrity, Vision Were Hallmarks Of His Tenure As Organization's Leader
For Immediate Release
Contact: Ted Hearn
(202) 713-0826
thearn@acaconnects.org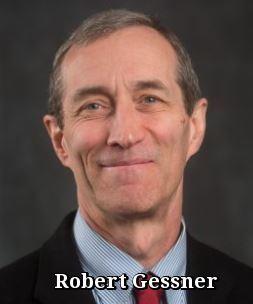 CHICAGO, July 30, 2019 – In recognition for his untiring support for independent video and broadband providers as Chairman of ACA Connects, Robert Gessner was presented with the ACA Connects Chairman's Award here this evening at a banquet celebrating the year's achievements in the industry. The award, presented by ACA Connects President and CEO Matthew M. Polka, acknowledged Gessner's strategic vision, creative leadership and his strong value system that contributed so much to other ACA Connects members.
Addressing an audience of hundreds of ACA Connects members, Polka explained the importance of Gessner's legacy to the organization and the industry.
"During Bob's tenure as Chairman, our industry underwent an important transition with broadband investment achieving paramount importance, overtaking the traditional video business. With an entrepreneur's vision, Bob was always ready to work with everyone to achieve the objectives for ACA Connects members" Polka said.
Gessner became ACA Connects chairman in July, 2014. He always made time to testify before Congress, discuss the issues with reporters on short notice, and reach out to the national audience by appearing on C-SPAN. He continues to serve on the Federal Communications Commission's Communications Security, Reliability, and Interoperability Council (CSRIC), a federal advisory committee that provides recommendations to the FCC on actions the FCC can take to improve the security and reliability of communications systems.
In April, Gessner retired as President of MCTV in Massillon, Ohio, a company started by his father, the late Richard (Dick) Winfield Gessner. MCTV will remain in the family as Gessner has passed the leadership reins to his daughter Katherine, who became MCTV President three months ago.
"Bob spent 40 years at MCTV, including the last 17 as President. He drew upon his experience as the head of a family-owned business to stay competitive, maintain a highly trained workforce, and serve as a technology leader in the Massillon community," Polka added.
Gessner will continue to serve on ACA Connects' Board as its Immediate Past Chairman.
Polka commented, "We're thankful our association, membership and board will continue to benefit from Bob's wisdom, experience and guidance. He is a treasure to our industry, and we can't thank him enough for his selfless service that has made us all better."
About ACA Connects: America's Communications Association – Based in Pittsburgh, ACA Connects is a trade organization representing more than 700 smaller and medium-sized, independent companies that provide broadband, phone and video services to nearly 8 million customers primarily located in rural and smaller suburban markets across America. Through active participation in the regulatory and legislative process in Washington, D.C., ACA Connects' members work together to advance the interests of their customers and ensure the future competitiveness and viability of their business. For more information, visit: https://acaconnects.org