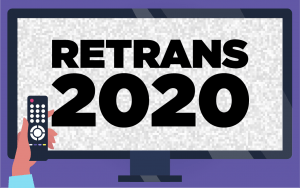 Retrans 2020: Overall Situation Remains Grave, but Congressional Action Prevented Even Worse Harm
By Matthew M. Polka
ACA Connects President and CEO
2020 retransmission consent negotiations have now mostly concluded. Not surprisingly, the results were consistent with what was expected as broadcasters continued to impose unconscionable rate hikes on consumers for what they call "free TV." In addition to big rate hikes, we've also seen more than a few TV station-initiated blackouts without much warning and a lot of miffed customers. The only bright side: It could have been even worse for many smaller cable operators had the door not been opened for buying groups to enter the picture.
Let's start with some facts about retransmission consent leading into 2020. The Federal Communications Commission (FCC) just released a report showing, in 2019, that cable operators paid more than $5.5 billion dollars in retransmission consent fees — once again, for the right to deliver "free" over-the-air television stations. This represented a 19.2% increase over fees paid the previous year at a time when the general rate of inflation, as measured by the Consumer Price Index, was 2.5%.
The report showed that smaller cable operators were disproportionately harmed financially by retransmission consent. Small cable operators paid on average $178.13 per subscriber, per year in retransmission consent payments, while large cable operators paid on average $124.67 per subscriber, per year. In other words, small cable operators paid on average at least 43% more than larger operators. And, according to the FCC, the disparity between small and large cable systems is getting only bigger.
Likewise, in 2019, broadcasters blacked out their signal an astounding 219 times. On more than 200 occasions, in other words, cable and satellite subscribers who had done nothing wrong lost access to local news and network programming, just so big broadcasters could get more money.
All this data pertains to 2019. But all the anecdotal evidence we have seen suggests that the magnitude of rate increases has gotten only worse in last year's negotiations. Moreover, blackouts have continued among cable operators, including ACA Connects members.
BOYCOM Vision, NNTV, Mediacom, TDS, GCI, Shentel, WOW! and Cable One/Sparklight were forced to drop signals on Jan. 1 in the face of unreasonable demands for higher fees by broadcasters. As of this writing, it will take a while before we learn the results of these blackouts and the ultimate impact on their consumers.
There was, however, one bit of good news. This year marked the first set of retransmission consent negotiations conducted after passage of the Television Viewer Protection Act of 2019, or "TVPA" — a law that ACA Connects and its members fought hard to pass and which the FCC implemented last year.
The TVPA requires large TV station ownership groups to negotiate retrans in good faith with buying groups like the National Cable Television Cooperative (NCTC). ACA Connects members tell us NCTC was able to conclude retransmission consent deals with most (but not all) of the large broadcast groups that TVPA is supposed to cover. Make no mistake, the broadcasters still have an incredible amount of leverage and the terms and conditions of these deals were not great for the small cable operators opting into them. But those deals involved lower transaction costs than individual negotiations would have had. And, hopefully, they resulted in lower rates than individual negotiations would have produced.
The bottom line: Most of what's awful about retransmission consent stayed the same, and it's getting worse for consumers. The old and outdated federal retrans rules from the 1990's need to be reformed or, better yet, thrown out. Change through laws like the TVPA is a terrific start, and ACA Connects will continue to fight for reform — just as it successfully did with the TVPA.
[divider unique_id="e5c1582176d08f9fd41ea2ee9bca6ad5″ type="fw-line-solid" line_thickness="1″ divider_size="{‹²›size‹²›:‹²›space-md‹²›,‹²›custom‹²›:{‹²›margin_top‹²›:‹²›‹²›,‹²›margin_bottom‹²›:‹²›‹²›}}" width="{‹²›selected‹²›:‹²›100‹²›,‹²›custom‹²›:{‹²›custom_width‹²›:‹²›‹²›}}" alignment="fw-divider-align-left" bg_color="{‹²›id‹²›:‹²›fw-custom‹²›,‹²›color‹²›:‹²›‹²›}" special_divider="{‹²›selected_value‹²›:‹²›none‹²›,‹²›text‹²›:{‹²›title_advanced_styling‹²›:{‹²›text‹²›:{‹²›google_font‹²›:true,‹²›subset‹²›:‹²›latin‹²›,‹²›variation‹²›:‹²›regular‹²›,‹²›family‹²›:‹²›Lato‹²›,‹²›style‹²›:false,‹²›weight‹²›:false,‹²›size‹²›:‹²›19‹²›,‹²›line-height‹²›:‹²›28‹²›,‹²›letter-spacing‹²›:‹²›0‹²›,‹²›color-palette‹²›:{‹²›id‹²›:‹²›fw-custom‹²›,‹²›color‹²›:‹²›‹²›},‹²›is_saved‹²›:false}},‹²›title_text‹²›:‹²›‹²›,‹²›show_bg‹²›:‹²›no‹²›,‹²›position‹²›:‹²›‹²›},‹²›icon‹²›:{‹²›icon_class‹²›:‹²›‹²›,‹²›icon_size‹²›:‹²›12‹²›,‹²›color‹²›:{‹²›color‹²›:‹²›‹²›,‹²›id‹²›:‹²›fw-custom‹²›},‹²›show_bg‹²›:‹²›no‹²›,‹²›position‹²›:‹²›‹²›},‹²›custom‹²›:{‹²›upload_icon‹²›:‹²›‹²›,‹²›icon_size‹²›:‹²›12‹²›,‹²›show_bg‹²›:‹²›no‹²›,‹²›position‹²›:‹²›‹²›}}" link_id="" animation_group="{‹²›selected‹²›:‹²›no‹²›,‹²›yes‹²›:{‹²›animation‹²›:{‹²›animation‹²›:‹²›fadeInUp‹²›,‹²›delay‹²›:‹²›200‹²›}}}" responsive="{‹²›desktop_display‹²›:{‹²›selected‹²›:‹²›yes‹²›},‹²›tablet_landscape_display‹²›:{‹²›selected‹²›:‹²›yes‹²›},‹²›tablet_display‹²›:{‹²›selected‹²›:‹²›yes‹²›},‹²›smartphone_display‹²›:{‹²›selected‹²›:‹²›yes‹²›}}" class="" __fw_editor_shortcodes_id="a1f0f4444ad79ad84aca83bc9c4c9d54″ _array_keys="{‹²›divider_size‹²›:‹²›divider_size‹²›,‹²›width‹²›:‹²›width‹²›,‹²›bg_color‹²›:‹²›bg_color‹²›,‹²›special_divider‹²›:‹²›special_divider‹²›,‹²›animation_group‹²›:‹²›animation_group‹²›,‹²›responsive‹²›:‹²›responsive‹²›}" _fw_coder="aggressive"][/divider]About ACA Connects: America's Communications Association – Based in Pittsburgh, ACA Connects is a trade organization representing more than 700 smaller and medium-sized, independent companies that provide broadband, phone and video services to nearly 8 million customers primarily located in rural and smaller suburban markets across America. Through active participation in the regulatory and legislative process in Washington, D.C., ACA Connects' members work together to advance the interests of their customers and ensure the future competitiveness and viability of their businesses. For more information, visit: https://www.acaconnects.org