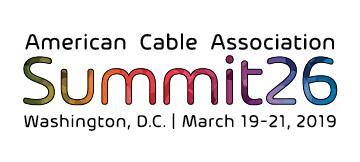 Sometimes, despite the best made plans, circumstances arise that are out of your control. ACA finds itself in this situation. ACA, like many other groups, books its Summit dates well in advance to secure the hotel and meeting space we need, and we choose weeks around the spring holidays when Congress is normally in session. But there's never a guarantee. In fact, Congress recently released its 2019 calendar and senators and congressmen will be back home on district work periods during the dates of #Summit26, March 19-21, 2019. But while Members of Congress won't be there, CONGRESSIONAL STAFF MEMBERS WILL BE IN DC FOR US TO LOBBY so it is still incredibly important for you to join us in D.C. for this year's Summit.
Here's why:
Congress must pass legislation in 2019 on broadcast carriage issues that will give us the perfect opportunity to discuss the harms of retransmission consent, bundling, media consolidation and vertical integration.
With more than 100 new Members of Congress after last November's elections, meeting with key committee and personal staff members who are the policy experts is more important than ever.
Developing ongoing relationships with Congressional staffers WHO WILL BE THERE IN DC WITH US DURING THE SUMMIT is vital so they know you by name when issues, hearings or bills come up.
We have a great line up of speakers including National Political communicator Frank Luntz, FCC Commissioner Michael O'Rielly, and NTIA Administrator David Redl, plus many more to come!
Please take a moment to watch this brief video or read more here to learn why your participation is vital in 2019. We need YOU, and I look forward to seeing you in Washington at our ACA #Summit26, March 19-21, 2019. Register NOW at ACASummit.org!
Thank you,