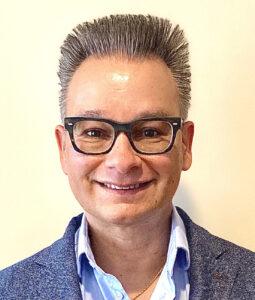 PITTSBURGH, June 23, 2023 – Bill Tortoriello, a veteran of regulatory policy, has joined ACA Connects as Director of Regulatory Affairs, ACA Connects President and CEO Grant Spellmeyer announced today.
"We're excited to have Bill join our ACA Connects team as Director of Regulatory Affairs. His experience in regulatory compliance will serve an important role in supporting our member education and advocacy efforts," Spellmeyer said.
Most recently, Tortoriello was Director of Regulatory Policy at UScellular. In that position, he worked on complex regulatory and policy matters dealing with Infrastructure, Public Safety, and Consumer items.
"Acting as an advocate for ACA Connects Members, Tortoriello comes with nearly 30 years of regulatory compliance experience at AT&T Wireless, TDS and UScellular, and he will have a positive impact on our Member operations," Spellmeyer said.
Tortoriello has a Master of Jurisprudence, Compliance & Enterprise Risk Management, from Loyola University School of Law and a Bachelor of Science in Business Management and Administration from Bradley University.
"I'm thrilled to join ACA Connects as Director of Regulatory Affairs. Working alongside ACAC Chairman Patricia Jo Boyers, Grant, and the rest of the team, I am dedicated to supporting our members in navigating the regulatory process using my extensive expertise in compliance and policy. With Broadband Equity, Access, and Deployment (BEAD) Program funding on the horizon, exciting times are ahead, so the opportunity to start and help our members couldn't be more opportune." Tortoriello said.
Tortoriello officially starts his ACA Connects tenure on Monday, June 26.
---
About ACA Connects: America's Communications Association – Based in Pittsburgh, ACA Connects is a trade organization representing more than 500 smaller and medium-sized, independent companies that provide broadband, video, and phone services covering 23 million customers, 6 million of which are located in rural and smaller suburban markets across America. Through active participation in the regulatory and legislative process in Washington, D.C., ACA Connects Members work together to advance the interests of their customers and ensure the future competitiveness and viability of their businesses.