Independent Video and Broadband Providers to Celebrate ACAC's 30th Anniversary on Feb. 28-March 2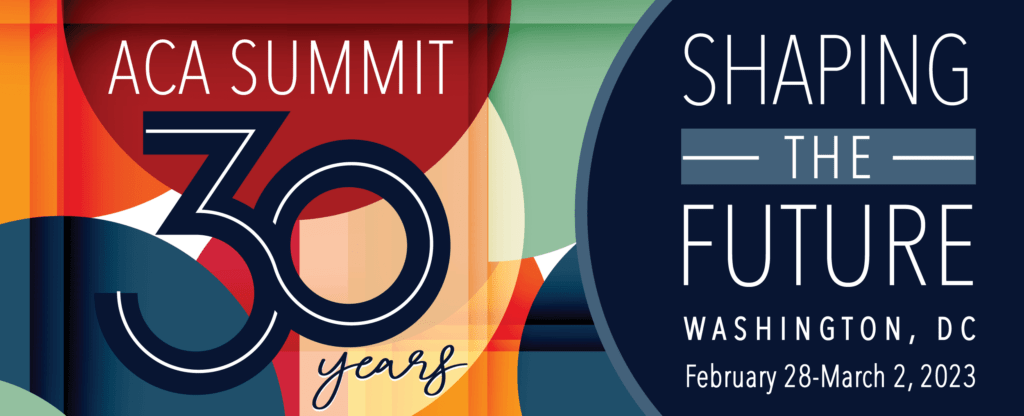 PITTSBURGH, Dec. 6, 2022 – ACA Connects today announced that its annual Washington, D.C., Summit will take place Feb. 28-March 2, 2023, a must-attend event that will mark the trade association's 30th anniversary as the leading voice of more than 500 independent video and broadband network providers.
The theme for this historic Summit is "Shaping the Future" – which acknowledges that 2023 is a watershed year for broadband deployment and related policy across the USA.
"We are truly excited to announce the dates and theme for our 2023 Summit, which will mark ACA Connects' 30th anniversary. There's a lot at stake in the coming months and I hope our members will turn out in large numbers to stress to members of Congress, the FCC and the Administration that there are tremendous risks to distributing broadband funding without care to the proven demonstrated needs of each geographic area." ACA Connects President and CEO Grant Spellmeyer said.
The ACA Connects Summit is returning to an in-person event for the first time since 2019. Since then, ACA Connects Members have continued to invest, offering service to nearly 23 million households — up from 14 million six years ago — which include more than one-quarter of all rural households in the country.
"I urge all ACA Connects Members to attend the 2023 Summit in Washington, D.C. It will be an historic occasion with a serious purpose but also with time set aside for hugs and hurrahs to honor all that we have achieved. I would add this: Going to Capitol Hill and making our case in person are unbeatable in letting our country's leaders understand the importance of the work we do back home," ACA Connects Chairman Patricia Jo Boyers said.
Mrs. Boyers, who became ACAC's Chairman in 2019, is President/CEO & Co-Founder of BOYCOM Vision in Poplar Bluff, Mo. The video and broadband provider serves about 5,100 customers. In September, Mrs. Boyers was inducted into the prestigious Cable Hall of Fame, Class of 2022.
The ACA Connects Summit is a truly special event that allows small and midsize video and broadband providers that serve hometown America to engage with key lawmakers and regulators as well as media representatives that report on communications policy in Washington, D.C. The Summit gives independent communications providers a vehicle for framing the diverse and complex issues in their own words during dozens of sessions on Capitol Hill and with regulators at the Federal Communications Commission.
The ACA Connects Summit host will be the Grand Hyatt Washington, 1000 H St NW, Washington, DC 20001.
#Summit2023 will be the official social media hashtag for the event.
Registration information is available at: https://acaconnects.org/aca-summit/
---
About ACA Connects: America's Communications Association – Based in Pittsburgh, ACA Connects is a trade organization representing more than 500 smaller and medium-sized, independent companies that provide broadband, phone and video services to nearly 8 million customers primarily located in rural and smaller suburban markets across America. Through active participation in the regulatory and legislative process in Washington, D.C., ACA Connects' members work together to advance the interests of their customers and ensure the future competitiveness and viability of their businesses.