Their Entry Became Official at Last Evening's Banquet Dinner in Atlanta
PITTSBURGH, October 12, 2021 – ACA Connects salutes Astound Broadband CEO Jim Holanda on his induction into the Cable TV Pioneers Class of 2021, a tribute to Holanda's decades of service and commitment to the cable TV industry as Astound continues to take a leadership role in the deployment of advanced communications networks and services.
"Thanks to Jim Holanda's leadership, Astound Broadband is widely recognized as one the best broadband and traditional video providers in the business. Through growth and strategic acquisitions, Astound is now the sixth-largest cable and broadband provider in the country, with about 1 million customers. Last December, trade publication Multichannel News named Holanda its 2020 Executive of the Year," ACA Connects President and CEO Matthew M. Polka said.
"Clearly, I am the luckiest cable TV installer in America to have experienced such an incredible journey over these last three-plus decades," Holanda said in his induction comments, offering special thanks Patriot Media Chairman Steven J. Simmons.
Joining Holanda in the Class of 2021 was ACA Connects Executive Vice President and Chief Operating Officer John Higginbotham, who joined ACAC in February 2020 and helped the organization rapidly navigate the COVID-19 health emergency, which required the entire nation to adopt innovative methods in maintaining service to American consumers, especially those reliant on broadband service to work from home, take classes online and enjoy streaming content on their devices.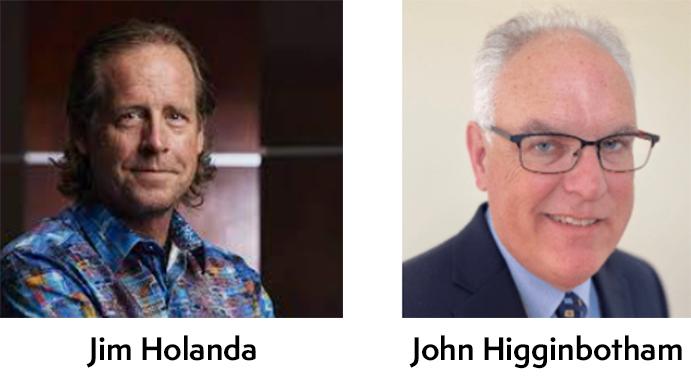 "When John Higginbotham joined ACA Connects early last year, there was no honeymoon, no fire drill. We demanded a lot of him from day one and he responded with expert solutions acquired from his 23 years working for the Frankfort Plant Board in Kentucky, a municipal electric, water and cable/telecommunications operator servicing more than 18,000 residents. John was FPB's Assistant General Manager of Telecommunications from 2014 to 2017. ACA Connects greatly benefits from John's leadership skills, and we are grateful to call him our colleague," said ACA Connects Chairman Patricia Jo Boyers, who is co-Founder and President of BOYCOM Vision in Poplar Bluff, Mo.
"I am humbled to join this illustrious group of Cable TV Pioneers," Higginbotham said in his acceptance remarks. He also thanked his sponsors, ACA Connects Chairman Boyers and former National Cable Television Cooperative (NCTC) programming executive Frank Hughes.
The sold-out induction ceremony occurred at the 55th Annual Banquet of the Cable TV Pioneers, which inducted 24 new Pioneers in all. The event took place at the Ritz Carlton hotel in Atlanta, Ga.
The Pioneers Class  2021 also included three other ACA Connects members, whom ACA Connects also salutes on this recognition that honors their decades of effort and achievement:
Patricia Baughman, CableONE/Sparklight, national sales manager for Sparklight Advertising and an eight-time President's Club Award winner and six-time top revenue producer;
Patsy Smullin, California Oregon Broadcasting, Inc./Crestview Cable, pioneering broadcast and cable owner and entrepreneur; and,
Jack Capparell, Service Electric TV, Inc., general manager of the nation's first cable television system who worked with the founder of the industry, John Walson, for more than 40 years.
ACA Connects salutes these Associate Members who were inducted:
Wonya Lucas, President, CEO of Crown Media Family Networks; and
John E. Roos, EVP Corp. Communications and Research, INSP
ACA Connects also wishes to recognize these new Cable TV Pioneers for their industry acumen and contributions to their organizations:
Chris Lammers, Senior Vice President & Chief Operating Officer at CableLabs;
Amy Maclean, Cablefax Editorial Director; and
R. Thomas Umstead, Senior Content Producer at Multichannel News and Next TV.
More information about all of the new inductees can be found at the Cable TV Pioneers website: http://cabletvpioneers.com/
About ACA Connects: America's Communications Association – Based in Pittsburgh, ACA Connects is a trade organization representing more than 600 smaller and medium-sized, independent companies that provide broadband, phone and video services to nearly 8 million customers primarily located in rural and smaller suburban markets across America. Through active participation in the regulatory and legislative process in Washington, D.C., ACA Connects' members work together to advance the interests of their customers and ensure the future competitiveness and viability of their businesses. For more information, visit: https://www.acaconnects.org