Minneapolis, July 31, 2023 – ACA Connects, a leading advocate for small and independent broadband and video providers, is proud to announce the prominent role played by ACA Connects Chairman Patricia Jo Boyers today at the highly anticipated Independent Show held here at the Minneapolis Convention Center.
Mrs. Boyers, a broadband pioneer who hails from the bootheel of Missouri, discussed her 44-year-long tenure in the industry and her affiliation with ACA Connects since 1994. Mrs. Boyers' comments came during a General Session panel this morning that delved into a number of areas, especially ACA Connects' growth as an organization and its strong position as a respected thought-leader on Capitol Hill.
On the panel with Mrs. Boyers were National Content & Technology Cooperative (NCTC) Chair of the Board Elaine Partridge, who is Vice President of Special Projects at Vexus Fiber, and Lisa Hood, NCTC's CFO & COO at the National Content & Technology Cooperative (NCTC), who handled moderator duties.
"It was an honor to be a part of this influential panel and to engage in crucial discussions on some of the issues that shape our industry's future," Mrs. Boyers said. "As advocates for small and independent broadband and video providers, we must work together to create an inclusive, innovative, and equitable environment that allows our industry to thrive."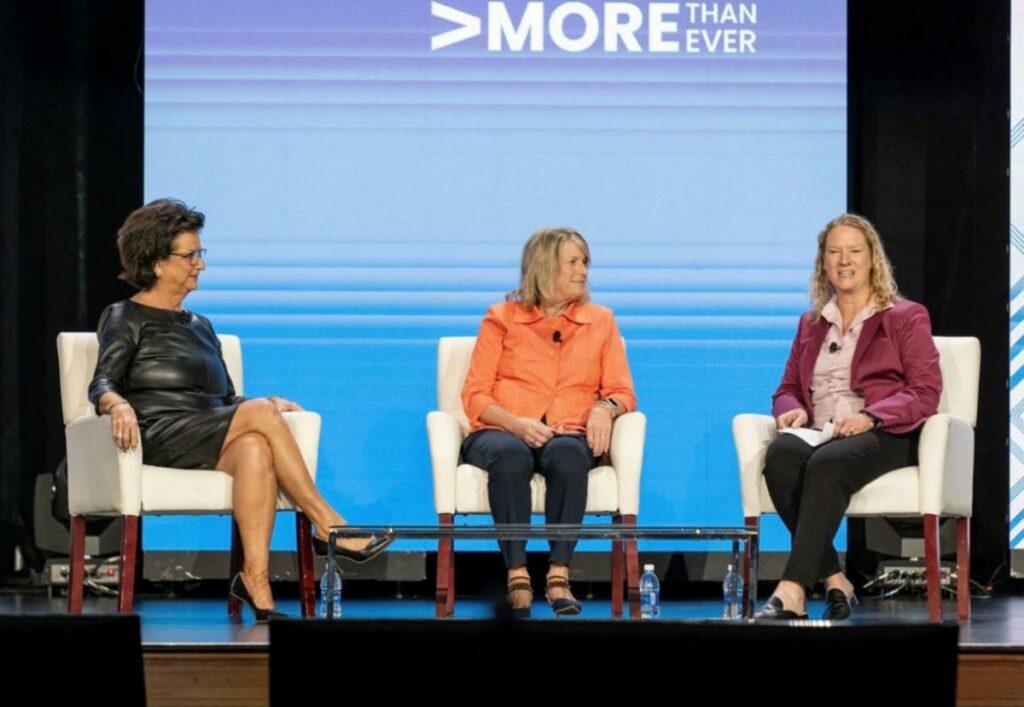 Mrs. Boyers is President/CEO & Co-Founder of BOYCOM Vision in Poplar Bluff, Mo. The video and broadband provider serves about 5,100 customers.
Mrs. Boyers' appearance followed opening welcome remarks from ACA Connects President and CEO Grant Spellmeyer and NCTC CEO Lou Borrelli, setting the stage for the next three days of a show agenda set to focus on the cutting-edge issues fueling dynamic change in the telecommunications policy and business arenas.
The Independent Show – now in its 18th year with ACA Connects and NCTC again joining as co-sponsors – gathers some of the most influential minds in the telecommunications sector, addressing the current challenges, opportunities, and policy matters impacting the industry.
Mrs. Boyers, widely known for her strategic vision and dedication to advancing the interests of ACA Connects Members, was in the vanguard of the many distinguished and trailblazing figures in attendance at this year's Independent Show. She is a prominent advocate for diversity and inclusion, and she underscored the invaluable contributions of women in driving innovation and progress within the industry.
ACA Connects is thriving as an organization – which is celebrating its 30th anniversary this year ­– mainly because of Mrs. Boyers' exceptional leadership and tireless efforts in championing the interests of the independent communications community. Her invaluable contributions in support of positive change have helped strengthen the industry and propel it toward a more connected and accessible future.
---
About ACA Connects: America's Communications Association – Based in Pittsburgh, ACA Connects is a trade organization representing more than 500 smaller and medium-sized, independent companies that provide broadband, video, and phone services covering 23 million customers, 6 million of which are located in rural and smaller suburban markets across America. Through active participation in the regulatory and legislative process in Washington, D.C., ACA Connects Members work together to advance the interests of their customers and ensure the future competitiveness and viability of their businesses.