Minneapolis, Minn. Aug. 1, 2023 – ACA Connects, a leading voice in support of small and independent broadband and video operators, held a groundbreaking public policy 'Super Panel' at today's Independent Show, featuring ACA Connects President and CEO Grant Spellmeyer as session moderator.
Spellmeyer's General Session Super Panel brought together industry experts on Washington, D.C., policymaking to discuss from multiple perspectives some of the crucial issues shaping the future of the telecommunications sector in which ACA Connects Members play a central role. The Independent Show, now in its 18th year, was co-hosted by ACA Connects and the National Content & Technology Cooperative (NCTC).
Spellmeyer and the panelists shared their wealth of experience and expertise in various aspects of the telecommunications industry and public policy to shed light on the latest developments from Washington, D.C., and their potential impact on hundreds of ACA Connects Members.
"I was delighted to have such a distinguished group of policy leaders and experts on this panel, which covered a number of key legal and regulatory issues," said Spellmeyer, a leading advocate for the rapid deployment of broadband networks that reach all Americans. "The Independent Show was an excellent platform to discuss important issues that affect our industry, especially ACA Connects Members."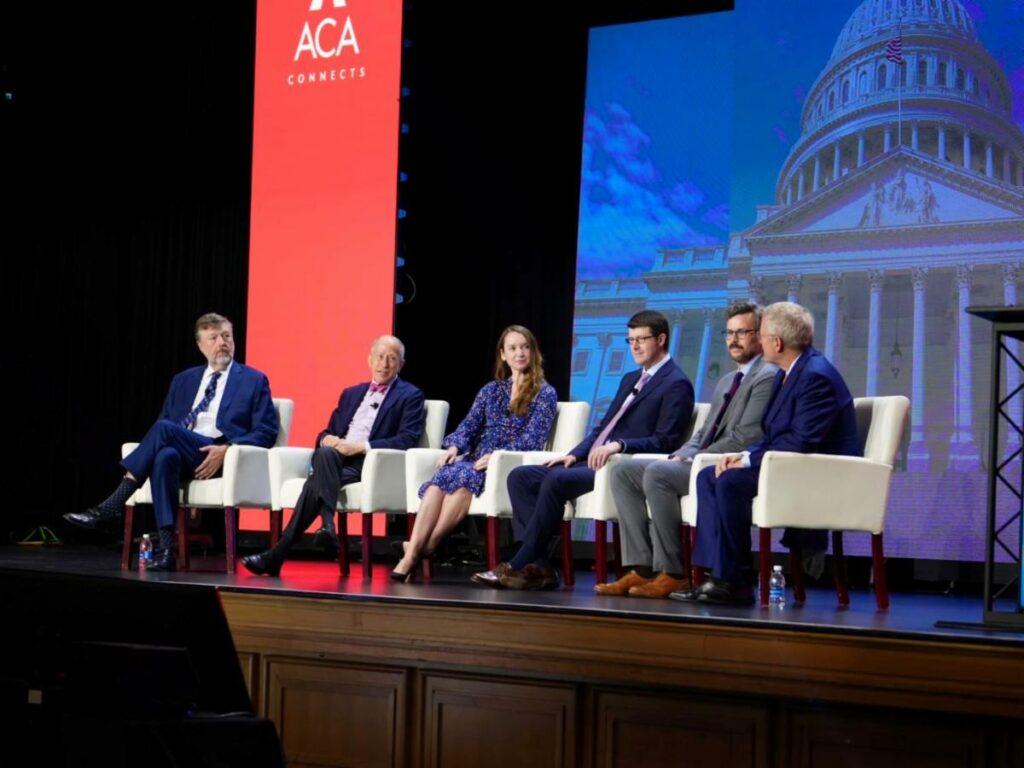 Joining Spellmeyer for the robust discussion were:
Brian Hurley, Chief Regulatory Counsel, ACA Connects
Rhod Shaw, Principal & Chairman, Alpine Group
Alison Graab, Sr. Vice President, Alpine Group
Curtis Philp, Vice President, Alpine Group
Thomas Cohen, Kelley Drye & Warren LLP
Spellmeyer's panel explored various pressing matters impacting the industry, including the Broadband Equity, Access, and Deployment (BEAD) Program, the Affordable Connectivity Program (ACP), and the Federal Communications Commission (FCC) under a Democratic majority that could be in place just a few months from now.
The $42.45 billion BEAD Program took center stage during the panel discussion, as participants explored strategies to bolster broadband access and bridge the digital divide in unserved and underserved communities. Overseeing the BEAD Program is the National Telecommunications and Information Administration (NTIA), which announced its funding allocations to the states and territories in late June.
As the industry grapples with challenges in providing affordable Internet access, the ACP garnered significant attention, mainly because the Internet subsidy program is likely to run out of funding next year without action by Congress. The ACP has enrolled more than 17 million households, according to FCC data.
With the FCC potentially coming under the control of a Democratic majority in the fall, Spellmeyer's panelists suggested potential policy shifts and regulatory changes that could impact ACA Connects Members, including the adoption of heavy-handed regulations aimed at broadband Internet Service Providers (ISPs).
"Our #TIS23 panel was an extraordinary opportunity to exchange and promote ideas and policies that will move the industry in a positive direction," Spellmeyer said. "By addressing critical issues such as the BEAD Program, ACP, and the evolving FCC landscape, we are strengthening our ability to drive change and empower our customers and neighbors through reliable and affordable connectivity."
The Independent Show is a special occasion that unites a range of industry participants, including company leaders, informative speakers, tech vendors and various supporters of the independent video and broadband industry.
ACA Connects represents a broad range of independent broadband providers, including cable, fiber, and wireless operators. The association serves as a strong voice for these providers, advocating for policies that promote competition, innovation, and investment in broadband infrastructure. ACA Connects also provides its members with networking opportunities, industry insights, and resources to navigate regulatory challenges and technological advancements.
---
About ACA Connects: America's Communications Association – Based in Pittsburgh, ACA Connects is a trade organization representing more than 500 smaller and medium-sized, independent companies that provide broadband, video, and phone services covering 23 million customers, 6 million of which are located in rural and smaller suburban markets across America. Through active participation in the regulatory and legislative process in Washington, D.C., ACA Connects Members work together to advance the interests of their customers and ensure the future competitiveness and viability of their businesses.