Lake Buena Vista, Fl., July 26, 2022 – Rep. Greg Walden, in comments here today at the Independent Show, addressed a key topic on just about everyone's mind: How are the federal government and the states going to spend the $42.45 billion contained in the
the Broadband Equity, Access, and Deployment (BEAD) Program run the National Telecommunications and Information Administration (NTIA)?
Last year, Congress embarked on a historic and likely once-in-a-lifetime quest to close the digital divide in America by including tens of billions of dollars in grant money that will flow to entities offering high-speed Internet access. In a one-on-one session with retiring ACA Connects President and CEO Matthew M. Polka, Rep. Walden offered his considered analysis of the legislation and the direction he sees things headed.
"No one is more knowledgeable about the state of U.S. broadband policy than Greg Walden. He left us with a lot to consider as ACA Connects Members continue to work with their state broadband officials on how best to use BEAD funding in the years ahead. On this point and others, Greg Walden's insights and suggestions were incredibly helpful," ACA Connects President and CEO Grant Spellmeyer said.Rep. Walden's session with Polka came during the second day of the 17th Independent Show at Walt Disney World® Resort. It was the first in-person show since 2019 because of the health restrictions put in place to curb the spread of the COVID-19 virus.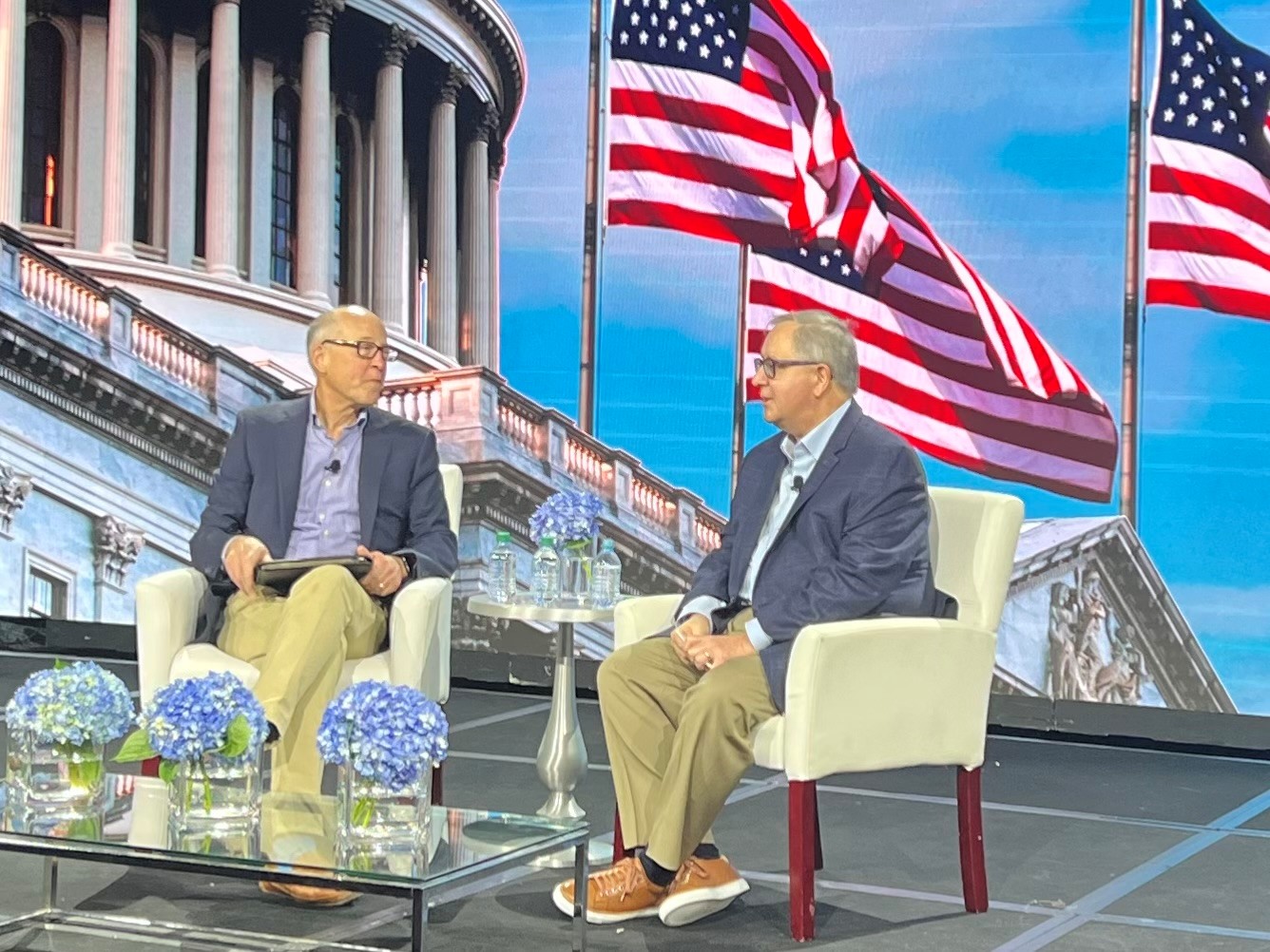 From left: Former Rep. Greg Walden (R-Ore.) and departing ACA Connects President and CEO Matthew M. Polka on stage today at the 17th Independent Show at the Walt Disney World Resort.
Walden's talk was captioned: Uncle Sam's Broadband Bucks – Who's Holding the Purse Strings? As Walden and Polka noted, NTIA is the one holding the purse strings but the vast majority of BEAD money will eventually flow to the states to fund broadband deployment projects designed to serve unserved areas based on maps created by the Federal Communications Commission (FCC).
Rep. Walden represented the people of Oregon's Second Congressional District from 1999 to 2021. During his Capitol Hill career, he was chairman of the powerful House Energy and Commerce Committee, a panel with authority to oversee the nation's communications sector, including ACA Connects Members that offer video and broadband services.
Rep. Walden is currently Chairman of Alpine Advisors in Washington, D.C.
The Independent Show is a special gathering that unites a range of industry participants, including company leaders, informative speakers, tech vendors and various supporters of the independent video and broadband industry.
In keeping with long tradition, this year's Independent Show was co-sponsored by the National Content & Technology Cooperative (formerly the National Cable Television Cooperative) and ACA Connects – America's Communications Association.
---
About ACA Connects: America's Communications Association – Based in Pittsburgh, ACA Connects is a trade organization representing more than 500 smaller and medium-sized, independent companies that provide broadband, video, and phone services covering 23 million customers, 6 million of which are located in rural and smaller suburban markets across America. Through active participation in the regulatory and legislative process in Washington, D.C., ACA Connects Members work together to advance the interests of their customers and ensure the future competitiveness and viability of their businesses.