Network Performance During the COVID-19 Crisis
Independent broadband service providers who are members of ACA Connects are keeping Americans connected during the COVID-19 emergency. Over the past decade, these small to mid-sized broadband service providers, many of which serve smaller communities and rural areas, have invested billions of dollars to build robust, reliable DOCSIS (Hybrid Fiber-Coax) and Fiber to the Home (FTTH) local broadband networks with high capacity transit links. Amid the COVID-19 emergency, as daily life has moved online, network usage is surging. To evaluate how our members' DOCSIS and FTTH networks' performed during the emergency, ACA Connects retained the strategy consulting firm, Cartesian, to perform an in-depth analysis. Cartesian found that despite the surge in Internet usage, our members' networks continue to provide the same high-quality experience their customers have come to depend on.
The ACA Connects Footprint
ACA Connects members – a few of which serve over 1 million customers but most of whom serve fewer than 1,000 customers – provide approximately 10 million residential and business customers across all 50 states with broadband, and more than 40% of American households are in a ZIP code served by at least one ACA Connects member. ACA Connects member footprints first experienced the COVID-19 emergency at different times throughout March and early April.
Key Insights
During the COVID-19 pandemic:
Data Usage

Download usage increased by 27%
Upload usage increased by 36%

Network Utilization

Typical network utilization did not change for large providers
Some small providers saw peak transit utilization increase, but generally not to a point that required action by the provider

Customer Experience

Support calls increased slightly, but 94% were not network-related
The small number of reported network issues were typically resolved in less than a day
The robust network capacity ACA Connects members have engineered and deployed, along with reasonable network management practices, have proven sufficient to handle the increase in network demand. As a result, their customers' quality of experience has remained as promised.
Data Usage
As American households spend more of their day at home, average daily data usage has increased. Starting on March 10, daily download consumption was 27% greater than the pre-COVID average, and upload consumption increased at a greater rate, up 36% relative to the pre-COVID average.
In normal times, residential usage is lower in the middle of the day versus the evening, as most users head to work or school. As the COVID-19 pandemic grew over the course of March, we saw two usage phenomena:  First, data usage increased and spread out across the entire day. Second, while peak data continued to occur at around 9 PM, the peaks were higher, with peak download usage up 24% and peak upload usage up 34%. Both of these trends, while handled well by ACA Connects members, can stress less robust networks.
"[Weekday traffic] look[s] like a typical Saturday or Sunday from before. More usage during the daytime…"

— A rural Pacific Northwestern cable provider
Network Utilization
Cable Internet providers track their capacity on two sides of their network: their transit network and their access networks, which are customer-facing. The following represents an example network for a DOCSIS cable provider with two service groups: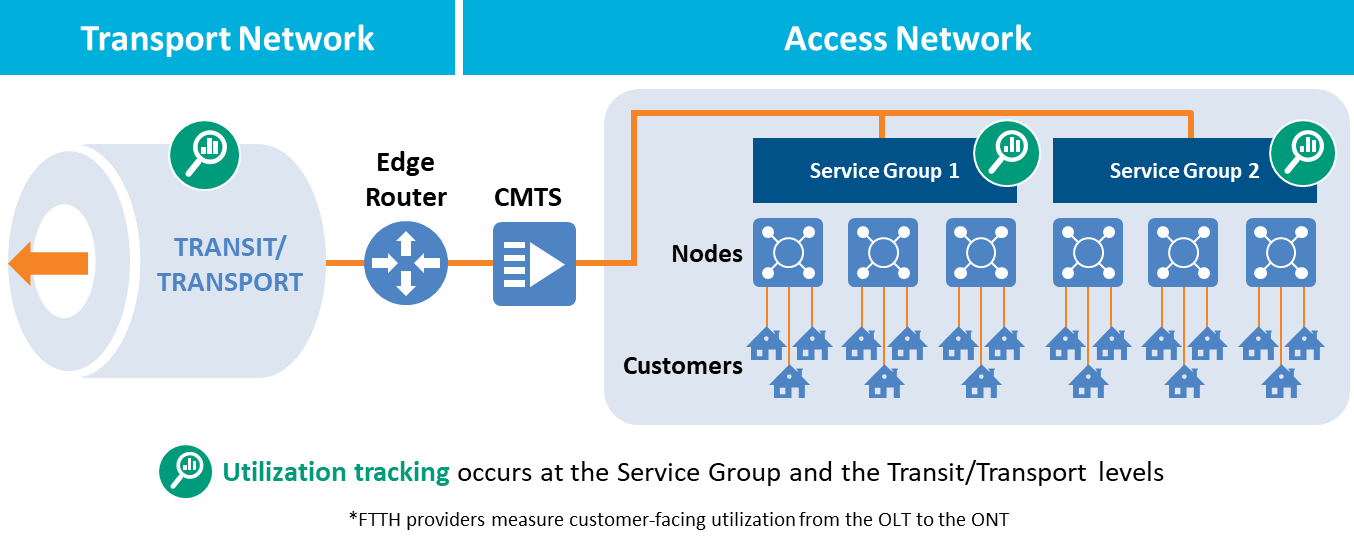 Even with greater data usage during the emergency, utilization of our members' transit networks has remained within standard operating thresholds because these networks have sufficient capacity and, when needed, our members engage in reasonable traffic management practices, including working with content/edge providers to increase cache capacity. 
Peak transit capacity for a sample of larger ACA Connects members who provided detailed data ranged from 16% to 50% on any given day. For these members, no significant change was seen as a result of COVID-19, and these usage patterns do not come within 15% of typical transit utilization warning threshold levels.
Customer-facing capacity utilization has also remained steady. Almost all access networks have remained at pre-COVID-19 levels of utilization.
Finally, our members believe that the initial traffic surge has leveled off, at least for now. They continue to monitor usage and utilization often throughout the day and are prepared to address any issues that arise.
Despite the relatively low impact of COVID-19 on transit and access networks, our members have recognized that some aspects of the traffic surge (e.g., greater use of video conferencing and chat) may be the "new normal" and have taken proactive actions across their entire network to address anticipated longer-term usage increases.
"Our network was well prepared to handle the additional load."

— A suburban Midwestern cable provider
Customer Experience
Customers have generally not seen impacts to their experience from network demands. Only 6% of support calls have been associated with network-related issues, despite 76% of members reporting a 10%+ increase in support calls. The remaining 94% of support calls involved customer-owned or ISP-owned on-premise equipment, or issues arising from the adjustment to working at home.
In the rare cases where ACA Connects members reported network problems, the issues generally were related to slower speeds due to network demands during peak times and not as outages. In any event, these network issues were typically resolved in less than a day.
Many ACA Connects member customers are requesting speed upgrades to accommodate their increase in home internet usage. Our members offer a range of service tiers, and 63% of members have reported increases in broadband speed upgrade requests. ACA Connects members have also seen an increase in new subscribers.
"Our most popular upgrade path has been to a 50/5 tier of service, followed by 100/10, and then 1G/50; additionally, almost 1/3 of all our upgrades to tiers of service are coming from our mobile app in a self-serve manner"

— An urban Southern cable provider
Conclusion
With vast numbers of broadband users engaging in telework, telehealth, distance learning and video chat with family and friends, we are now more than ever dependent on service providers delivering high quality, consistent broadband access. We've found that the broadband networks of ACA Connects members are providing customers what they expect during a time when traffic has surged, when that surge has occurred for large parts of the day, and when that surge has occurred on both downstream and upstream traffic. That is good news for broadband customers and the communities ACA Connects members serve. During an incredibly challenging time, America is able to work, learn, and connect while staying at home.
Methodology
We used a multi-modal data collection methodology to gather insights from ACA Connects members whose coverages range from urban to significant numbers of lower density areas. This included both direct data gathering from select members, as well as OpenVault, a network usage analytics company serving many smaller ACA Connects members, focused on tonnage/HSD throughput, network utilization, and service group utilization, and a custom research survey to add insight into member's views on what is, and likely will, happen in the future.