New White Paper Finds That ACA Connects Member Subscribers and Communities Benefit From Higher Speeds, Greater Competition, More Robust Networks, and Civic Engagement
PITTSBURGH, October 12, 2022 – On the eve of its 30th anniversary, ACA Connects today issued a White Paper developed in partnership with the business consulting firm Cartesian that takes a detailed look at ACA Connects Members – some 500 small and mid-sized independent communications providers: who they are, the services they provide, the communities they serve, and the benefits they deliver to consumers and these communities. The White Paper reveals that ACA Connects Members are at the forefront of delivering broadband and other advanced communications services to residents and businesses in communities across America, especially in rural areas. The key findings include the following: 
By the latest count, ACA Connects Members offer service to nearly 23 million households – up from 14 million six years ago — which include more than one-quarter of all rural households in the country.
Virtually all rural households served by ACA Connects Members can receive 100/20 Mbps service, and an increasing share — about 34 percent today — can get gigabit speeds.
Ninety-one percent of households served by ACA Connects Members have their choice of multiple broadband providers, and more than 70 percent have at least three options.
Fifty-five percent of households served by ACA Connects Members have fiber-to-the-home service available, compared to 43 percent of all other households. In rural America, the figures are 47 percent and 24 percent, respectively. 
Though they rely primarily on private investment, ACA Connects Members participate extensively in both Federal and State programs supporting deployment in hard-to-serve areas. 
More than 300 ACA Connects Members participate in the Affordable Connectivity Program, ensuring that low-income households in their communities can receive high-quality broadband service. 
ACA Connects Members are actively involved in their communities and volunteer considerable time and resources to charitable and social initiatives.
"I'm proud to be leading ACA Connects at this historic moment for our association and for the country," said Grant Spellmeyer, ACA Connects President and CEO. "In recent years, our Members have invested billions to deploy networks and services that rival those of any large communications provider. This White Paper encapsulates the many great things our Members are doing to close the digital divide, drive competition, and make a difference in their communities."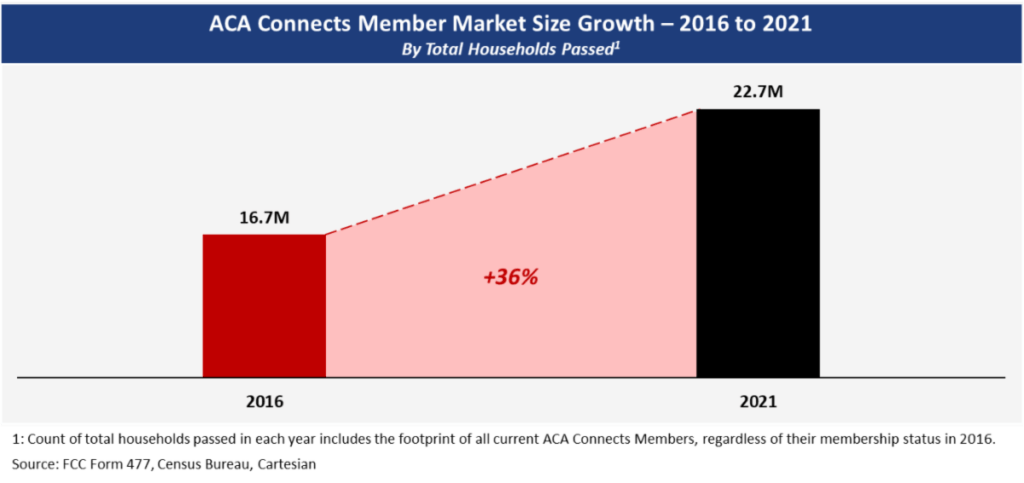 ACA Connects Members businesses' have grown considerably in recent years. Collectively, they passed 36 percent more households in 2021 than they did just five years earlier.
"As community-based providers operating in a competitive environment, our Members have continued to upgrade their networks to meet local needs and expand into new areas as they see opportunities to serve other consumers," said Spellmeyer. "They have also benefitted from light-touch regulation of broadband, which has created a climate favorable to investment."
The White Paper builds on ACA Connects' June 2022 report, which found that the fixed broadband marketplace is highly competitive and only becoming more so.
"ACA Connects Members' investments are both a response to, and a driver of, the intense and broadband competition we are seeing," said Spellmeyer.
---
About ACA Connects: America's Communications Association – Based in Pittsburgh, ACA Connects is a trade organization representing more than 500 smaller and medium-sized, independent companies that provide broadband, video, and phone services covering 23 million customers, 6 million of which are located in rural and smaller suburban markets across America. Through active participation in the regulatory and legislative process in Washington, D.C., ACA Connects Members work together to advance the interests of their customers and ensure the future competitiveness and viability of their businesses.